Welcome back for the weekend laugh attack!  Enjoy and remember to share these funny things with your friends…
Funny Status Updates for Facebook:
Girls are like phones. We love to be held, talked to, but if you press the wrong button..you will be disconnected!
The lesser of two evils rarely wins the evil contest.
A save electricity sign: "Don't you hate it when someone turns you on, and then just leaves?"
Obama said taxes have gone down during his administration. That's ONE way to get rid of income tax – getting rid of income. (From @JimmyFallon)
A mathematician's favorite place in New York City? Times Square.
I'm thinking of re-releasing my old statuses in 3D. ツ (Want more like this one?  "Like" our Funny Status Update Fan Page for daily funny status updates)
You sacrifice. You fight injustice. You think you're making a difference. Then you find out Snooki has a book deal.
If there's anything more important than my ego around here I want it caught and destroyed immediately.

Worrying works! 90% of the things I worry about never happen.

(From @FreeFunnyStuff our twitter account.)

I think it's time Obama puts a viral video on YouTube where he plays a prank on Biden.
Facebook News Alert: High Definition photos coming soon to Facebook!
Funny Pictures to Post: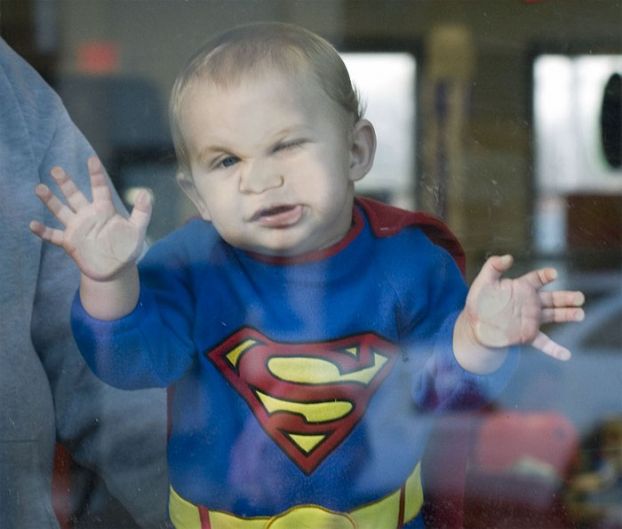 Who knew that Superman was a kiddo?
Interesting Video to Post:
[youtube]http://www.youtube.com/watch?v=f46SpiboAew[/youtube]
How weird is that?!?!?!?  Post that video and you're sure to start a comment fest!  Enjoy the NFL  this weekend, guys. Have a safe and enjoyable weekend!  See you on Monday, folks For some more awesome content throughout the weekend "like" our FB Fan Page & Download our 4.5-star Rated iPhone App. Thanks for stopping by!