No one can deny that Thursday is awesome.  However, the upcoming Holiday weekend is clearly superior. Meanwhile these funny things will have to hold you over…
Funny Status Updates for Facebook:
When ur humble you are confident and wise. When you Brag you are insecure and lacking.
Judging from the ads that constantly besiege us, I guess TV execs think that the only ones home watching TV during the day are injured at work, sick from a recalled medication, or unemployed with an abundance of gold jewelry. ツ (Want more like this one?  "Like" our Funny Status Update Fan Page for daily funny status updates)
I don't know what my credit score is but I'm pretty sure I'm losing.
People like to put words in your mouth, predictive-text likes to put words in your phone.
I went to see my doctor. "Doctor, every morning when I get up and look in the mirror, I feel like throwing up. What's wrong with me?" He said "I don't know but your eyesight is perfect." 
(From our 4.5-star Rated Funny Status Updates iPhone App – Over 25,000/monthly users that average 5+comments per status update!)
Funny Picture to Post: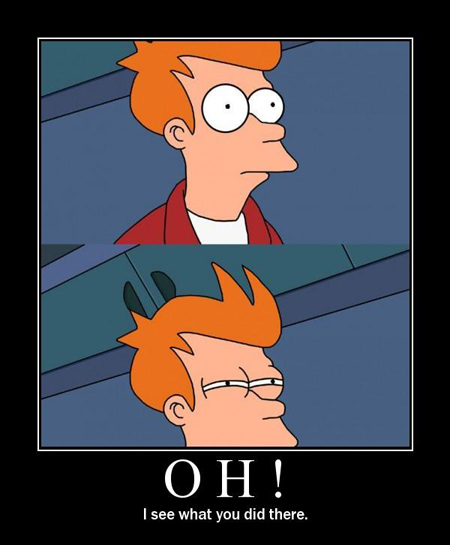 Funny Video to Post:
[youtube]http://www.youtube.com/watch?v=XzCcRzEa83U[/youtube]
Hahah funny!  Come back tomorrow for the world famous weekend wrap-up Cya then! If you need more funny status updates, pics, and videos to post:  "Like" our FB Fan Page & Download our 4.5-star Rated iPhone App.